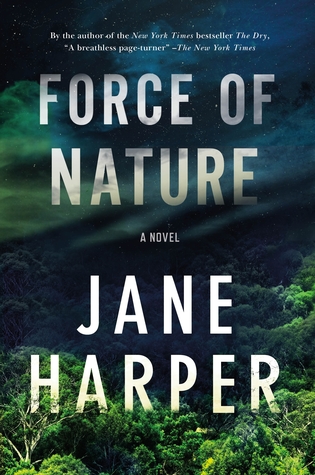 Force of Nature 
by Jane Harper
Genre: Mystery
Length: 326 Pages
Release date: February 6, 2018
Publisher: Flatiron Books
Synopsis: 
Five women reluctantly pick up their backpacks and start walking along a muddy track.
Only four come out on the other side.
The hike through the rugged Giralang Ranges is meant to take the office colleagues out of their air-conditioned comfort zone and encourage teamwork and resilience. At least, that's what the corporate retreat website advertises.
Federal Police investigator Aaron Falk has a keen interest in the whereabouts of the missing hiker, Alice Russell. Because Alice knew secrets, about the company she worked for and the people she worked with.
The four returning women tell Falk a tale of fear, violence and fractured trust during their days in the remote Australian bushland. And as Falk delves into the disappearance of Alice, he begins to suspect some dangers ran far deeper than anyone knew.
"It's the panic that gets you. Makes it hard to trust what you're seeing." 
Force of Nature is a continuation of The Dry, but don't worry if you haven't read it (although I definitely recommend giving it a shot.) Detective Aaron Falk is the central character for both books, and while Force of Nature makes a few passing references to the events of The Dry, Falk is working to solve a new mystery in this second installment, and it could easily be read as a standalone book. (But really, why would you skip The Dry?)
In The Dry, the mystery was incredibly personal for Falk; the man accused of killing his own family was Falk's closest childhood friend, Luke, and solving the mystery would either clear Luke's name or reveal how little he ever really knew him. The stakes are slightly less personal in Force of Nature, but still quite high-pressure. The missing woman, Alice, was meant to turn over documents that Falk urgently needs for  an ongoing investigation. The result is a gripping, desperate pursuit that makes for an engaging read.
The novel can basically be divided into two parts, which alternate throughout the story: Aaron Falk's perspective, starting after Alice has gone missing, and flashback scenes to the retreat where the disappearance took place. The latter varies in perspective, and we get to know each of the women who were lost in the bushland with Alice. The tension is high from start to finish, from Falk's work pressures to the hysteria-inducing panic of being lost in the Australian wilderness. Both of Harper's novels have been highly atmospheric; the Australian landscape can begin to feel like a character on its own, raising the stakes and pushing the characters to act.
With plenty of red herrings and twists galore, Harper manages to pull off a shocker of a conclusion which will keep the reader guessing until the end.

Amazon | Barnes & Noble | Book Depository | IndieBound
Thank you for reading! Have you read either of Jane Harper's novels? Share your thoughts in the comments!
Other places to follow me…
Tumblr | Facebook | Instagram | GoodReads