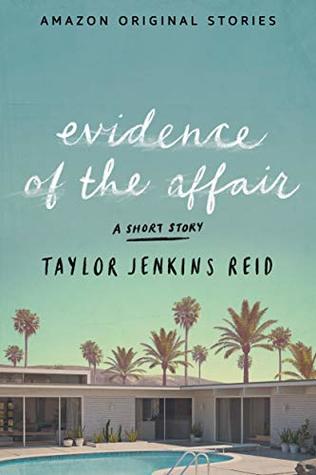 Evidence of the Affair
by Taylor Jenkins Reid
Genre: Short Story, Epistolary
Release date: September 20, 2018
Publisher: Amazon Original Stories
Synopsis: 
The repercussions of an illicit affair unfold in this short story by bestselling author Taylor Jenkins Reid.
Dear stranger…
A desperate young woman in Southern California sits down to write a letter to a man she's never met—a choice that will forever change both their lives.
My heart goes out to you, David. Even though I do not know you…
The correspondence between Carrie Allsop and David Mayer reveals, piece by piece, the painful details of a devastating affair between their spouses. With each commiserating scratch of the pen, they confess their fears and bare their souls. They share the bewilderment over how things went so wrong and come to wonder where to go from here.
Told entirely through the letters of two comforting strangers and those of two illicit lovers, Evidence of the Affair explores the complex nature of the heart. And ultimately, for one woman, how liberating it can be when it's broken.
This will be a short review for a short story. My love for Taylor Jenkins Reid has been no secret on this blog. I think I mention The Seven Husbands of Evelyn Hugo every chance I get. So Evidence of the Affair was a lovey surprise today when it popped up on my news feed.
This story is told in the form of a series of letters. Two strangers, Carrie and David, begin writing to one another when Carrie discovers that their respective spouses have been having an affair. Carrie discovers the affair when she finds (you guessed it) a stack of love letters from another woman, stashed away in her husband's briefcase.
Neither Carrie nor David are immediately ready to call it quits on their marriages. Unsure of how they plan to handle things, they don't feel comfortable discussing things with anyone but each other. The result is that the two slowly begin to form an unlikely bond, as they feel like kindred spirits in their heartache.
My mother has always told me that I have more opportunities, as a woman of my generation, than she ever had. She made it seem like I had an obligation to use them how she would have.
The character development with Carrie was flawless and she was definitely my favorite part of this story. She married young and hasn't had a career during her marriage, and we watch her struggle to find faith in her own ability to be independent. I was rooting for her to find strength and a sense of self worth from start to finish.
Maybe I'm not equipped for short stories, because this definitely left me wanting more at the end. Can we get a sequel? Also, there was a Daisy Jones reference because Taylor Jenkins Reid feels like tormenting me by casually mentioning her book that isn't coming out until March. Thanks, Taylor.
Thank you for reading? Have you read any of Taylor Jenkins Reid's work? Discuss your favorite in the comments!
Other places to follow me…
Tumblr | Facebook | Instagram | GoodReads