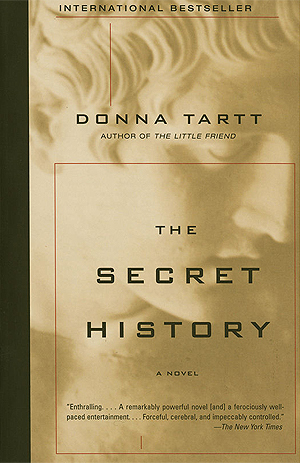 The Secret History
by Donna Tartt
Genre: Fiction
Length: 559 Pages
First Published: April 13, 2004
Synopsis: 
Under the influence of their charismatic classics professor, a group of clever, eccentric misfits at an elite New England college discover a way of thinking and living that is a world away from the humdrum existence of their contemporaries. But when they go beyond the boundaries of normal morality they slip gradually from obsession to corruption and betrayal, and at last – inexorably – into evil.
It's a very Greek idea, and a very profound one. Beauty is terror. Whatever we call beautiful, we quiver before it. And what could be more terrifying and beautiful, to souls like the Greeks or our own, than to lose control completely? To throw off the chains of being for an instant, to shatter the accident of our mortal selves?
The Secret History opens with a murder, but this is not a mystery novel. We know who has died and who has committed the murder from the very beginning. What we don't know is why. From that opening scene, Tartt then backs up to take us through the events which led up to the murder.
Richard, our protagonist, is a college student with seemingly no idea what he wants to do with his life. When we join his story, he is in the process of changing majors for the second time. He wants to study classics. He seems to have no particularly strong affinity for classics, but digs his heels into this path when his adviser tells him how difficult it will be to get the college's classics professor to allow him into his classes. The professor is an eccentric old man and extremely picky about accepting any new students.
A lot of the negative reviews for this book seem to be fixated on the fact that it's filled with terrible people. Richard and his newfound friends in the classics program are all unbearably pretentious. They look down on the other students in the college, take great pride in speaking Greek around the other students so no one else can understand them, and just generally act like self-absorbed asses. Yes, this can be grating, but I don't think Tartt wrote The Secret History expecting us to like these characters. After all, the story does open with them murdering someone and then backtracks so that we are treated to their justification of this crime in the days leading up to it. You won't find a new fictional best friend in this book.
What you will find is stylistically lovely writing and an intensely interesting plot. Richard gets sucked into a cult-like atmosphere in the insular classics program. He makes note at one point about how astoundingly ignorant the other classics students are of anything outside of their area of expertise. One student reacts with surprise to find that men have walked on the moon. Their medical knowledge seems to be limited to things they learned from Hippocrates.
Richard is an unreliable narrator in that he has an agenda. Richard is remorseful, but throughout the book, he seems to be pleading with the reader for understanding, almost reminiscent of Humbert Humbert's clumsy justifications in Lolita. The victim of the murder is shown exclusively in a negative light; this despite the fact that Richard claims to have liked him and that they were friends at one point. Surely there is something missing in his retelling of events.
I will say that it took me a little while to get invested in The Secret History. Given some of the negative reviews I'd read, I was almost inclined to give up early in the story. The payoff, however, was more than worth the slow beginning.
Why does that obstinate little voice in our heads torment us so? Could it be because it reminds us that we are alive, of our mortality, of our individual souls – which, after all, we are too afraid to surrender but yet make us feel more miserable than any other thing? It is a terrible thing to learn as a child that one is a being separate from the world, that no one and no thing hurts along with one's burned tongues and skinned knees, that one's aches and pains are all one's own. Even more terrible, as we grow older, to learn that no person, no matter how beloved, can ever truly understand us. Our own selves make us most unhappy, and that's why we're so anxious to lose them, don't you think?

Amazon | Barnes & Noble | Book Depository | IndieBound
Thank you for reading! Have you read The Secret History? Please share your thoughts in the comments!
Other places to follow me…
Tumblr | Facebook | Instagram | GoodReads