Welcome to another WWW Wednesday! This meme is hosted by Taking on a World of Words. To participate, just answer the following three questions:
What are you currently reading?
What did you recently finish reading?
What do you think you'll read next?
I'm currently reading…
Killing Adam
by Earik Beann
This is an ARC of a January 1st release. It's a dystopian science fiction novel where virtually all of humanity has "Altered Reality Chips" implanted into their brains and spend almost all of their time in virtual reality. The protagonist is one of the few people whose brains are, for varying reasons, incompatible with these chips.
The Seven Husbands of Evelyn Hugo
by Taylor Jenkins Reid
This is a reread for me. I read this book months ago, but I'm reading it again because it's this month's selection for my book club, and also because it's amazing. You can read my review here.
The Lost Man
by Jane Harper
This is an ARC of a February 5th release, and is Jane Harper's third novel. I've read and loved her previous work, so I was really quick to request a copy of her latest mystery. As you can see, I haven't made a ton of progress on this one yet. I'm not super into it so far, but if memory serves, her other books took me a bit to get invested as well, so I'm feeling optimistic about it still.
I recently finished reading…
The Female of the Species
by Mindy McGinnis
Read my full review here. This is a young adult novel which seeks to explore themes surrounding rape culture and violence. Alex, the protagonist, is a high school girl with tendencies towards violence, in part triggered with the rape and violent death of her sister. I definitely found this to be a worthwhile read, but I don't think it accomplished everything it was trying to do in terms of a message.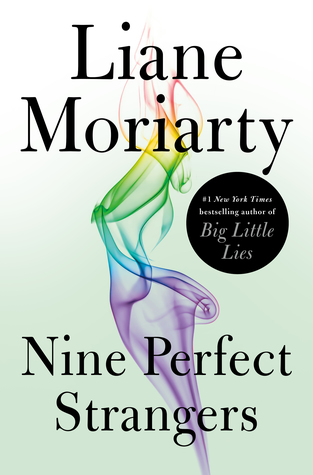 Nine Perfect Strangers
by Liane Moriarty
This one has really mixed reviews on GoodReads, and I can totally understand why, but I thought it was really fun. It takes place at a health resort with… questionable methods. The pace for the whole first half of the book feels too slow, and Moriarty was definitely trying to do too much with too many characters, but once the story finally got going, it was weirdly hilarious and thrilling. It's definitely one of the weirder books I've read lately despite being totally possible in the real world. Read my full review here.

The Atomic City Girls
by Janet Beard
This is a historical fiction novel which takes place during WWII, at a pop-up city where citizens were (in most cases unknowingly) working to develop the atomic bomb. The blurb led me to expect something a lot more serious, I think, and this read more like chick-lit. There's nothing wrong with chick-lit, but writing a novel where the main character is helping to develop the world's deadliest weapon and then having that take the back seat to a totally unnecessary unhealthy romance plot was… a confusing narrative choice to me. My full review will be up tomorrow.
Up next…
The Stranger Inside 
by Laura Benedict
This is another NetGalley ARC for a February 5th release.
Kimber Hannon's belief that she has complete control over her life is shattered the night that she comes home from a trip to find her key no longer opens her front door. There is a stranger living in her house. A stranger who claims he has every right to be there, with the paperwork to prove it. When she confronts the man, he lets her get close enough to whisper, "I was there. I saw what you did."
She doesn't know how he knows her, but with those words Kimber knows this stranger isn't after anything as simple as her money or artwork or charming Craftsman bungalow. She has to find out exactly what he wants and get him out of her carefully orchestrated life before he ruins it.
There are plenty of people in her life who might help, but should Kimber trust any of them? Her lawyer, Gabriel, is also her ex-lover; Diana, her best friend, doesn't know Kimber slept with her husband; her ex-husband has a new, happier life since leaving her; and her co-workers know she'll do anything to get her next sale. And no one can know the real reason this man is in her house. Without trust, everyone's a stranger….

Other places to follow me…
Tumblr | Facebook | Instagram | GoodReads
What are you reading this week? Any thoughts on the books listed in this post?  Please feel free to discuss or share WWW links in the comments!