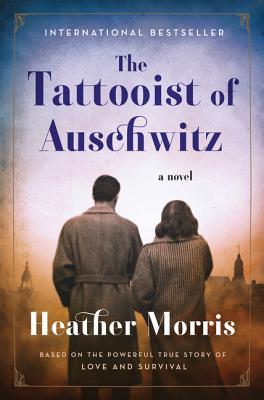 The Tattooist of Auschwitz
by Heather Morris
Genre: Historical Fiction
Length: 262 Pages
Release date: September 4, 2018
Synopsis: 
In April 1942, Lale Sokolov, a Slovakian Jew, is forcibly transported to the concentration camps at Auschwitz-Birkenau. When his captors discover that he speaks several languages, he is put to work as a Tätowierer (the German word for tattooist), tasked with permanently marking his fellow prisoners.
Imprisoned for more than two and a half years, Lale witnesses horrific atrocities and barbarism—but also incredible acts of bravery and compassion. Risking his own life, he uses his privileged position to exchange jewels and money from murdered Jews for food to keep his fellow prisoners alive.
One day in July 1942, Lale, prisoner 32407, comforts a trembling young woman waiting in line to have the number 34902 tattooed onto her arm. Her name is Gita, and in that first encounter, Lale vows to somehow survive the camp and marry her.
A vivid, harrowing, and ultimately hopeful re-creation of Lale Sokolov's experiences as the man who tattooed the arms of thousands of prisoners with what would become one of the most potent symbols of the Holocaust, The Tattooist of Auschwitz is also a testament to the endurance of love and humanity under the darkest possible conditions.
I adore historical fiction and read more about WWII than any other historical time period, so it pains me to give this a negative review. I seem to be in the minority opinion on this book, judging by the 4.32 Goodreads average rating, but to say that the author's style didn't work for me would be an understatement.
Let me start with the story itself. The Tattooist of Auschwitz is based on a true story, and Lale's story is definitely one that deserved to be told. Taken into the most infamous of Nazi concentration camps and forced into a kind of complicity in order to survive, Lale is sympathetic while being morally complicated. He struggles with the moral implications of his actions throughout the book, wondering if the extra rations he's able to obtain and share with those who most need them can truly justify his cooperation with the Nazi guards by tattooing his fellow prisoners. He has a comparatively easy job and a position of relative safety in the camp, and this comes with it a sense of responsibility to those around him.
The love story (also based on Lale's real life) should have been a highlight of the story for me, but I was never able to get invested. There's something beautiful and bittersweet about finding a source of happiness and light in one of the darkest situations one can possibly encounter. However, the writing in this regard fell very flat for me; Lale falls in love with Gita more or less at first sight. For a young and romantic-minded man looking for any sense of comfort in Auschwitz, this is understandable, but Morris never fleshes out Gita's character enough for this romance to be sustainable. We learn very little about her as a person, and so it became difficult to understand Lale's continued infatuation with her as the story continued.
Finally, the main drawback of the book seemed to be the author's personal writing style, and the issues I had with this became much more clear to me when I read this from the author's Goodreads profile: "I originally wrote Lale's story as a screenplay – which ranked high in international competitions – before reshaping it into my debut novel, The Tattooist of Auschwitz." It feels like there are a lot of echoes of the screenplay left over in the final product, as if Morris edited the original document rather than re-imagining it from scratch to better suit an entirely different medium. The end result is detached and mechanical in a lot of passages, reading more like stage directions than novels at times. (I've lost the exact place, so I cannot quote the passage, but one in particular stuck out like a sore thumb, describing someone standing up from a desk, taking off the hat they were wearing, and placing it in a specific spot on a desk in such unnecessary detail.)
Overall, I thought this novel had a lot of promise, but it unfortunately fell flat due to the author's lack of experience in writing novels as opposed to screenplays. There is definitely a beautiful story somewhere under all the rough writing; there's still a possibility of this being adapted into a movie, which I would love to see, despite my lackluster experience with the book.

Amazon | Barnes & Noble | Book Depository | IndieBound
Thank you for reading! Have you read The Tattooist of Auschwitz? Please feel free to share your thoughts in the comments! 
Other places to follow me…
Tumblr | Facebook | Instagram | GoodReads