The Stranger Inside
by Laura Benedict
Genre: Mystery, Thriller
Length: 336 Pages
Release date: February 5, 2019
Publisher: Mulholland Books
Synopsis: 
Kimber Hannon's belief that she has complete control over her life is shattered the night that she comes home from a trip to find her key no longer opens her front door. There is a stranger living in her house. A stranger who claims he has every right to be there, with the paperwork to prove it. When she confronts the man, he lets her get close enough to whisper, "I was there. I saw what you did."
She doesn't know how he knows her, but with those words Kimber knows this stranger isn't after anything as simple as her money or artwork or charming Craftsman bungalow. She has to find out exactly what he wants and get him out of her carefully orchestrated life before he ruins it.
There are plenty of people in her life who might help, but should Kimber trust any of them? Her lawyer, Gabriel, is also her ex-lover; Diana, her best friend, doesn't know Kimber slept with her husband; her ex-husband has a new, happier life since leaving her; and her co-workers know she'll do anything to get her next sale. And no one can know the real reason this man is in her house. Without trust, everyone's a stranger….
My thanks to Mulholland Books and NetGalley for sending me an ARC of this book in exchange for an honest review. All opinions are my own and are not influenced by the publisher. 
Maybe I'm overly picky when it comes to thrillers, but The Stranger Inside unfortunately had a few things that are deal-breakers for me when it comes to this genre, principal among them being a supremely unlikable protagonist. Unlikable protagonists aren't an issue for me in all fiction, but in a thriller, I need to be rooting for the main character for the story to have any emotional thrust. I could not root for Kimber. If Kimber was on fire and I had a glass of water, I'd drink it. (Okay, maybe that's a bit much, but I was unable to find any empathy for this woman while reading.)
Kimber is habitually dishonest and selfish. A lot of this seems to come from her traumatic past, but I can only give a character so much leeway for that, and Kimber pushes the limit. She's emotionally distant in relationships, but don't worry, she has a foolproof plan for dealing with that: she just sleeps with married men! No strings! This was bad enough, but I can look past it in a fictional character to an extent. Kimber takes it to another level, though, when she decides to befriend the wife of one of her former flings, purely because she think it'll be funny to unnerve him. The wife's feelings don't seem to cross her mind for a minute.
At this point I'm just like…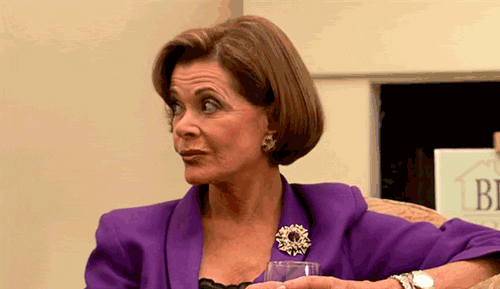 The second deal-breaker for me was the ridiculously convoluted plot. Some thriller writers seem to think that they can create an engaging story by the sheer quantity of twists. Quality, not quantity, please. Yes, if you throw in enough twists, at some point every reader is going to say, "Well, I didn't see that coming." The Stranger Inside is almost guaranteed to surprise you at least once, but this is in part because the twists are ridiculous. Obviously, I can't go into detail here without veering into spoilers, and maybe your experience will be different, but I wasn't buying some of these plot points.
Clearly, this novel didn't work for me, but the creep factor behind the basic concept is super intriguing, there are loads of characters to suspect, and I do think there's an audience for this book. This might be a good choice for fans of The Night Olivia Fell, When the Lights Go Out, and The Wife Between Us.

Amazon | Barnes & Noble | Book Depository | IndieBound
Thank you for reading! What's the best thriller you've read lately? I need some recommendations after this! Give me complex characters and well thought-out twists!
Other places to follow me…
Tumblr | Facebook | Instagram | GoodReads