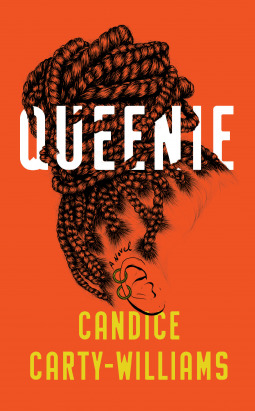 Queenie 
by Candice Carty-Williams
Genre: Contemporary
Length: 320 Pages
Release date: March 19, 2019
Publisher: Orion Publishing
Synopsis: 
Bridget Jones's Diary meets Americanah in this disarmingly honest, boldly political, and truly inclusive novel that will speak to anyone who has gone looking for love and found something very different in its place.
Queenie Jenkins is a 25-year-old Jamaican British woman living in London, straddling two cultures and slotting neatly into neither. She works at a national newspaper, where she's constantly forced to compare herself to her white middle class peers. After a messy break up from her long-term white boyfriend, Queenie seeks comfort in all the wrong places…including several hazardous men who do a good job of occupying brain space and a bad job of affirming self-worth.
As Queenie careens from one questionable decision to another, she finds herself wondering, "What are you doing? Why are you doing it? Who do you want to be?"—all of the questions today's woman must face in a world trying to answer them for her.
With "fresh and honest" (Jojo Moyes) prose, Queenie is a remarkably relatable exploration of what it means to be a modern woman searching for meaning in today's world.
My thanks to Orion Publishing and NetGalley for sending me an ARC of this book in exchange for an honest review. All opinions are my own and are not influenced by the publisher. 
When I first started reading Queenie, I wasn't sure I was going to like it, but boy did she grow on me. This novel follows her during a major downward spiral, (mostly) of her her own making. While there are some factors adding to it, such as childhood trauma and racism, for the most part, Queenie is the story of Queenie making a lot of Really Bad Decisions resulting from a mental health crisis.
I think the concept of agency is a big part of what made this a really interesting novel. Very little happens to Queenie that isn't a result of the choices she makes, but to what extent have her circumstances made those choices for her? The triggering event of the downward spiral is the dissolution of a long term relationship coming on the tail of a miscarriage. Her childhood has not set her up well to cope with these stressors; Queenie's neglectful mother is alluded to early in the story, the full extent of this becoming apparent only towards the end. Her sense of self worth at an all-time low, her performance at work begins to suffer and she goes on a spree of casual sex with various partners, none of whom are particularly concerned about anyone's pleasure but their own. Each poor decision kicks her mental health down a notch, leaving her less and less equipped to turn things around.
Structurally, this book mostly takes place in Queenie's present life, occasionally flashing back to her relationship with her ex boyfriend, Tom. There are also lots of passages made up of email or text message exchanges. I know these are kind of a pet peeve for some readers, but I thought it worked well in this particular novel. Queenie sets up a group text with some of her friends, some of whom do not know each other, hoping to compile all of her emotional support into one place. Watching her vastly different friends interact with one another as strangers was one of the highlights of the novel for me.
Queenie also gets political, which is another thing that can be really hit or miss when it comes to fiction, but Candice Carty-Williams ingrained it into Queenie's life and personality really effectively, and it doesn't feel forced into the story. The Black Lives Matter movement becomes important to the story, not because the author wants to make use of something culturally relevant, but because Queenie is a young black woman who works in journalism and encounters racism within her own life.
It's easy at times in this book to become frustrated with Queenie, as we are joining her in the midst of a breakdown. After a while, though, it because apparent that Queenie and her story are well worth a little patience.

Amazon | Barnes & Noble | Book Depository | IndieBound
Thank you for reading! What was the last debut novel you read and really enjoyed? Let's discuss in the comments!
Other places to follow me…
Tumblr | Facebook | Instagram | GoodReads