Welcome to another WWW Wednesday! This meme is hosted by Taking on a World of Words. To participate, just answer the following three questions:
What are you currently reading?
What did you recently finish reading?
What do you think you'll read next?
I'm currently reading…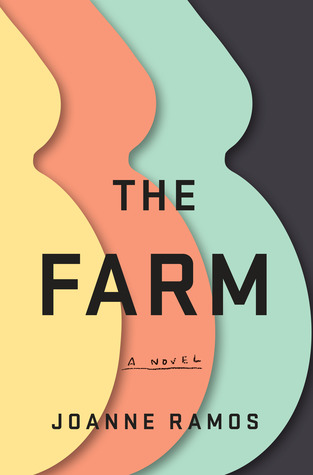 What's this? I'm only reading one book? This may be a first for one of my reading updates. Haha.
The Farm*
by Joanne Ramos
(*Free copy provided by publisher.)
"Nestled in the Hudson Valley is a sumptuous retreat boasting every amenity: organic meals, private fitness trainers, daily massages–and all of it for free. In fact, you get paid big money–more than you've ever dreamed of–to spend a few seasons in this luxurious locale. The catch? For nine months, you belong to the Farm. You cannot leave the grounds; your every move is monitored. Your former life will seem a world away as you dedicate yourself to the all-consuming task of producing the perfect baby for your überwealthy clients.
Jane, an immigrant from the Philippines and a struggling single mother, is thrilled to make it through the highly competitive Host selection process at the Farm. But now pregnant, fragile, consumed with worry for her own young daughter's well-being, Jane grows desperate to reconnect with her life outside. Yet she cannot leave the Farm or she will lose the life-changing fee she'll receive on delivery–or worse.
Heartbreaking, suspenseful, provocative, The Farm pushes our thinking on motherhood, money, and merit to the extremes, and raises crucial questions about the trade-offs women will make to fortify their futures and the futures of those they love."
This one has kind of mixed reviews, and I think a big part of it is awkward marketing more than an indication of quality. Judging by reactions on GoodReads, it seems like a lot of people were expecting this to feel more like a dystopian novel or a full-on thriller (I kind of had the dystopian impression myself before reading), and it's very much not that. The whole premise actually feels really ordinary in a kind of disturbing way. Don't go into this expecting something that feels identical to The Handmaid's Tale and I think most readers will like it.
I recently finished reading…
I just finished The Editor moments before writing this up, so I'm still gathering my thoughts on it, but I thoroughly enjoyed it! Steven Rowley is the author of Lily and the Octopus, and I honestly had really mixed feelings about that one. The Editor feels like a big step up. Review to come soon!
Parkland: Birth of a Movement, by Dave Cullen. As I've mentioned before, I'm picky about what kinds of nonfiction I'll review, and Parkland feels very much out of my comfort zone in that regard, so I won't be posting a full review. That being said, I do highly recommend this book! I read Cullen's Columbine book recently, and while it was clearly very well researched, the heavy focus on the perpetrators was off-putting. Parkland does not even name the shooter, and places the focus very much on the victims and their activism in the aftermath.
The Last Mrs. Parrish, by Liv Constantine. This is another one I don't feel like I can review. Too much of the plot was spoiled for me when I read comparisons between this and another book, so I went into it knowing exactly what to expect. Not a great reading experience for a mystery/thriller kind of book. Go into this one blind or not at all!
I posted my review of The Invited, by Jennifer McMahon yesterday. TLDR version: this is a fun ghost story, but unfortunately not my favorite by McMahon. This was a 3 star read for me. (*Free copy provided by publisher.)
And finally, The Unlikely Adventures of the Shergill Sisters*, by Balli Kaur Jaswal. You can read my review here! This was a five star book for me. Balli Kaur Jaswal is quickly becoming a favorite author for me, and I adore the way she's able to balance serious topics with a sense of humor and lightheartedness. (*Free copy provided by publisher.)
Up next…
The Plot to Cool the Planet*
by Sam Bleicher
(repeat from last week because my time management is garbage right now)
(*Free copy provided by publisher.)
"Global warming lies at the center of this gripping speculative fiction involving a murder mystery, a daring secret plot, dangerous international conflict, and controversy over governance of geoengineering.
Available Earth Day, April 22, 2019 on Amazon and at your local bookstore."
Other places to follow me…
Tumblr | Facebook | Instagram | GoodReads
What are you reading this week? Any thoughts on the books listed in this post?  Please feel free to discuss or share WWW links in the comments!