The Pew Research Center has published the results of a survey on the reading habits of Americans, revealing some interesting trends. The percentage of Americans who listen to audio books, for example, has nearly doubled since 2011.
Given the relative expense of audio books vs. print books, it would be interesting to know if their increased popularity corresponds with increased awareness of their availability through resources like the Overdrive and Libby through the public library system. (Using a new release as an example, Ribbons of Scarlet runs $26.99 for a hardcover copy or $13.42 for a paperback, compared to $29.94 for an Audible copy without a membership.)
Still, print books remain the most popular choice, with 37% of survey respondents saying they read print books exclusively.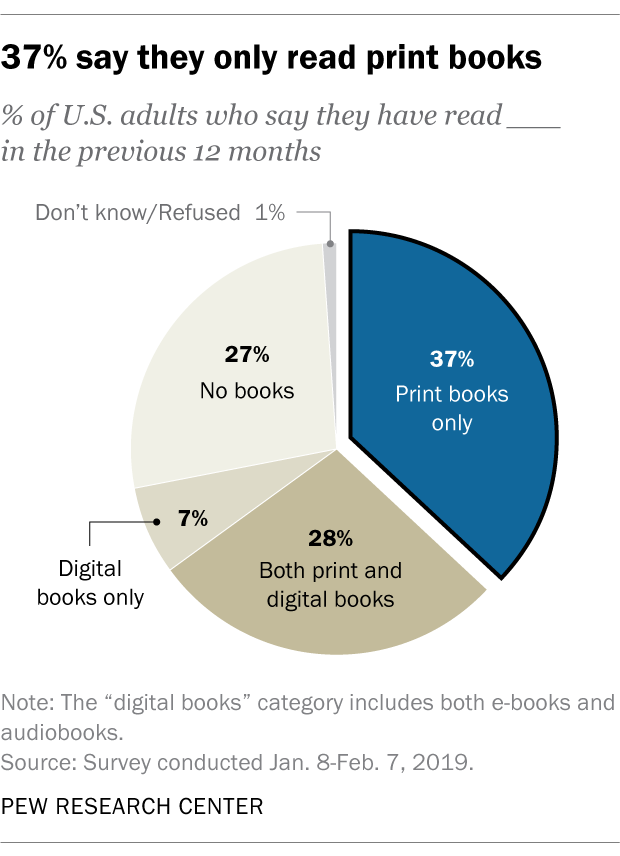 Finally, Pew found that those with a college education were the category most likely to read, regardless of the specific format chosen. What's interesting, however, is that those in the youngest demographic surveyed (18-29) were more likely to have read a book in the past year than any other age group… despite the tendency of some in the older generation to mourn the death of literacy due to the emergence of smart phones. Perhaps such concerns are premature.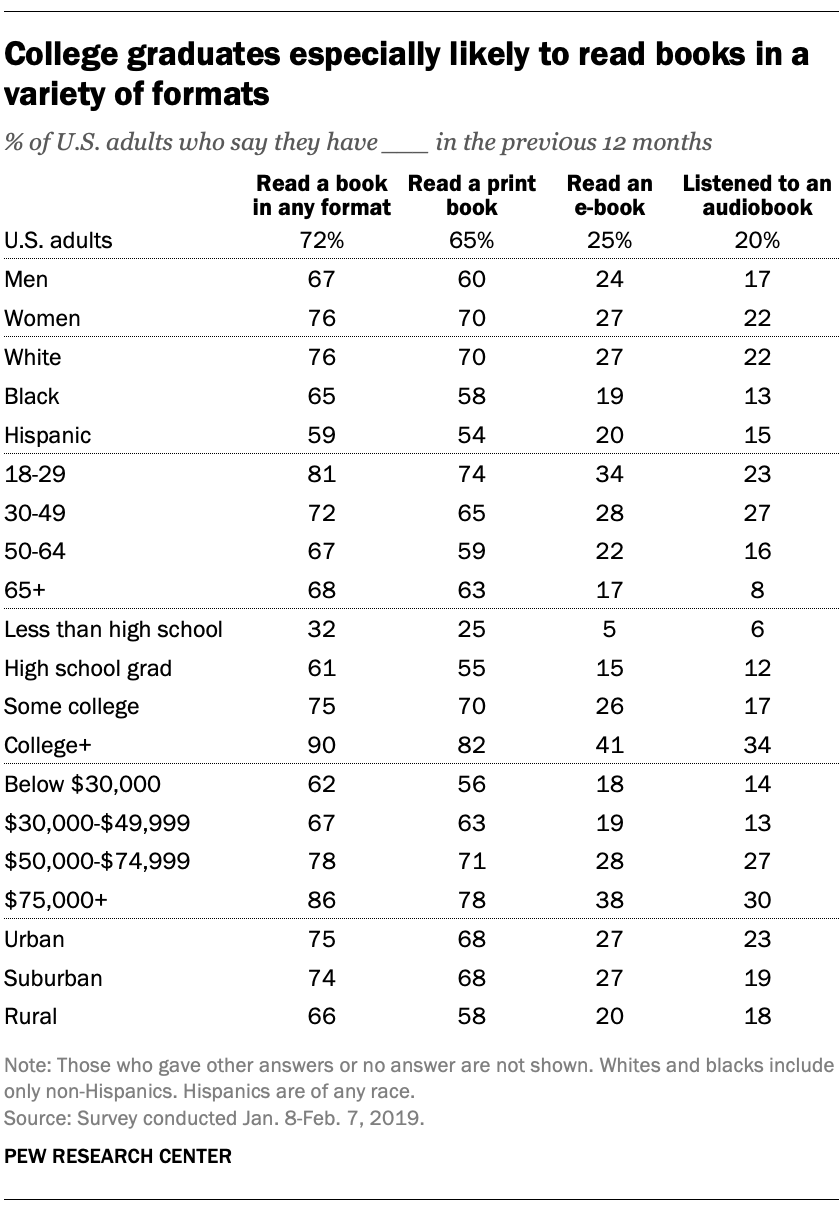 Overall, I think this last graphic is the most important in a lot of ways. When you examine various categories, it becomes clear that accessibility may be a running theme when it comes to how likely any given American is to pick up a book. Higher income means more expendable income to spend on books, and we see higher rates of reading in those with higher income. A college education is correlated with a higher income. Those living in urban or suburban areas will generally have a library closer to home than those in rural areas; we see lower rates of reading in rural areas.
We see a decline in ages 65+, and I think this can also be related to accessibility in some ways; this age group is more likely to experience mobility problems and other health issues, making a trip to a book store or a library low on the list of priorities for a lot of people. Vision and hearing problems are also more common with age, creating difficulty reading standard print size or hearing an audio book.
Read more on these stats from the Pew Research Center here!
What are your thoughts on these figures? What is your favorite way to read? Please feel free to discuss in the comments! 
Other places to follow me…
Tumblr | Facebook | Instagram | GoodReads