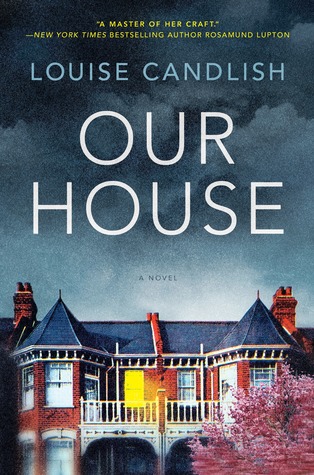 Our House
by Louise Candlish
Genre: Mystery, Thriller
Length: 404 Pages
Release date: August 7, 2018
Synopsis: 
On a bright January morning in the London suburbs, a family moves into the house they've just bought in Trinity Avenue. 
Nothing strange about that. Except it is your house. And you didn't sell it. 
When Fiona Lawson comes home to find strangers moving into her house, she's sure there's been a mistake. She and her estranged husband, Bram, have a modern co-parenting arrangement: bird's nest custody, where each parent spends a few nights a week with their two sons at the prized family home to maintain stability for their children. But the system built to protect their family ends up putting them in terrible jeopardy. In a domino effect of crimes and misdemeanors, the nest comes tumbling down.
Now Bram has disappeared and so have Fiona's children. As events spiral well beyond her control, Fiona will discover just how many lies her husband was weaving and how little they truly knew each other. But Bram's not the only one with things to hide, and some secrets are best kept to oneself, safe as houses.
Hello, friends! I just want to take a second to say I'm sorry for the delay since my last post. I've been out of town visiting family and now I'm way behind schedule. However, since I'm not working this week, I should be getting right back on track! Now, on to the review.
I had pretty lukewarm feelings towards Our House. The concept was interesting, but the pacing felt very slow for a mystery/thriller, and in the end I feel like it made very little impression on me. The format was one of the more interesting things about this novel; we alternate between Fiona's perspective and Bram's. Fiona tells her story in part through a podcast about victims of crimes. Those segments are followed up with what seem to be twitter threads discussing that episode. (This had a lot of potential, but I think if you want an example of the podcast concept being done really well, you'd be better off reading Sadie, by Courtney Summers.)
Another issue I had with this was that I found the major characters to be extremely unlikeable. While this isn't necessarily a deal-breaker for a book, if it's not bringing something really interesting to the table, then at the very least, I need someone who I can root for. Our House did not deliver in this regard. Bram is horrible; he is a sorry excuse for both a husband and father, cowardly, impulsive and childish to the extreme. Fiona is naive, kind of oblivious, and uptight. The two of them as a couple strain the limits of credulity. Granted the novel is predicated on the two of them splitting up, but how they became a couple in the first place is beyond me. Bram is a compulsive rule-breaker and Fiona thinks a speeding ticket is a horrific black mark on a person's character. These two stayed together long enough to have two children?
All that being said, I do think I could have loved this book were it not for the sluggish pace. It opens strong, and we are thrown right into the action, with Fiona coming back to her house to find strangers moving into it and Bram MIA. This is followed up with the opening of a confession letter from Bram, so we know very early on that he is responsible but are given no inkling as to why. I had very little idea of what to expect from there, and Candlish throws in so many twists and turns that you're guaranteed to be surprised more than once.

Amazon | Barnes & Noble | Book Depository | IndieBound
Thank you for reading! Have you read Our House? Please share your thoughts in the comments!
Other places to follow me…
Tumblr | Facebook | Instagram | GoodReads