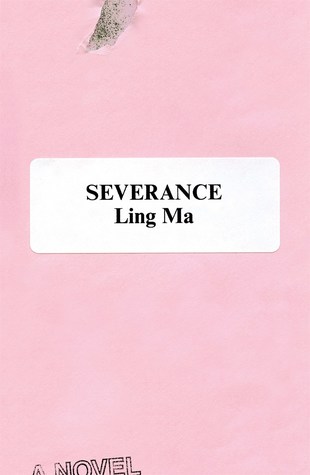 Severance
by Ling Ma
Genre: Science Fiction, Dystopia
Length: 304 Pages
Release date: August 14, 2018
Synopsis: 
An offbeat office novel turns apocalyptic satire as a young woman transforms from orphan to worker bee to survivor
Candace Chen, a millennial drone self-sequestered in a Manhattan office tower, is devoted to routine. With the recent passing of her Chinese immigrant parents, she's had her fill of uncertainty. She's content just to carry on: She goes to work, troubleshoots the teen-targeted Gemstone Bible, watches movies in a Greenpoint basement with her boyfriend.
So Candace barely notices when a plague of biblical proportions sweeps New York. Then Shen Fever spreads. Families flee. Companies halt operations. The subways squeak to a halt. Her bosses enlist her as part of a dwindling skeleton crew with a big end-date payoff. Soon entirely alone, still unfevered, she photographs the eerie, abandoned city as the anonymous blogger NY Ghost.
Candace won't be able to make it on her own forever, though. Enter a group of survivors, led by the power-hungry IT tech Bob. They're traveling to a place called the Facility, where, Bob promises, they will have everything they need to start society anew. But Candace is carrying a secret she knows Bob will exploit. Should she escape from her rescuers?
A send-up and takedown of the rituals, routines, and missed opportunities of contemporary life, Ling Ma's Severance is a moving family story, a quirky coming-of-adulthood tale, and a hilarious, deadpan satire. Most important, it's a heartfelt tribute to the connections that drive us to do more than survive.
Severance feels like a zombie story that very much does not want to call itself a zombie story. While the people infected with Shen Fever don't go around trying to eat brains, there is a very zombie-like quality to their mindless repetition of rote tasks. Then again, the narrator has a bit of a zombie-like quality to her as well, as do a lot of the work-obsessed people huddled together in New York City before the fever breaks out. (And, my God, does Ling Ma hammer that point home. The parallels between the meaningless rate race and the actual zombies are brought up so many times it seems like the author was afraid the readers would miss it.)
The overall tone of the novel may be best described as "sleepy," which is an interesting choice for an apocalyptic novel, but I suppose it meshes well with the characterization of Candace. Prior to the fever breaking out, she was whiling away her youth in an office job she had more or less fallen into and didn't particularly enjoy, but endured for the stability it offered.
Structurally, the novel bounces around a lot in time, which was somewhat disorienting at times. For the most part, it switches back and forth between Candace's time working in her office and her later travels with a small band of remaining survivors. At one point, it switches without warning to give the backstory of her parents, detailing their coming to America from China and her mother's struggle to adjust.
I think that the cultural aspects of the novel were one of its major strengths. Candace's status as an immigrant is important to the story in a lot of ways, and her experience as someone who came to America as a child contrasted sharply with that of her parents. China would always be home to them. Despite being born there, Candace felt less connection, and struggling to speak Mandarin on an adult level became a source of embarrassment for her. I always find stories of first generation immigrants interesting, particularly the exploration of what it's like to be essentially sandwiched between to cultures, and I thought this was something Ling Ma handled very well.
Overall, I enjoyed Severance, but found it somewhat lacking in terms of plot. The lack of structure in terms of timelines left things feeling somewhat disconnected, and it began to get very repetitive when it came to the point of drawing parallels between the drone-like qualities of both the fevered and healthy people in the story.

Amazon | Barnes & Noble | Book Depository | IndieBound
Thank you for reading! What was the last book you read that dealt with an apocalyptic scenario? Let me know in the comments!
Other places to follow me…
Tumblr | Facebook | Instagram | GoodReads