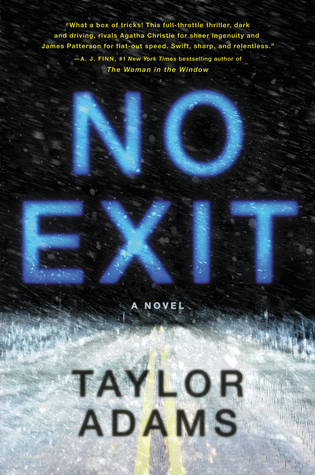 No Exit
by Taylor Adams
Genre: Thriller
Length: 352 Pages
Release date: January 15, 2019
Synopsis: 
A brilliant, edgy thriller about four strangers, a blizzard, a kidnapped child, and a determined young woman desperate to unmask and outwit a vicious psychopath.
A kidnapped little girl locked in a stranger's van. No help for miles. What would you do?
On her way to Utah to see her dying mother, college student Darby Thorne gets caught in a fierce blizzard in the mountains of Colorado. With the roads impassable, she's forced to wait out the storm at a remote highway rest stop. Inside, are some vending machines, a coffee maker, and four complete strangers.
Desperate to find a signal to call home, Darby goes back out into the storm . . . and makes a horrifying discovery. In the back of the van parked next to her car, a little girl is locked in an animal crate.
Who is the child? Why has she been taken? And how can Darby save her?
There is no cell phone reception, no telephone, and no way out. One of her fellow travelers is a kidnapper. But which one?
Trapped in an increasingly dangerous situation, with a child's life and her own on the line, Darby must find a way to break the girl out of the van and escape.
But who can she trust?
With exquisitely controlled pacing, Taylor Adams diabolically ratchets up the tension with every page. Full of terrifying twists and hairpin turns, No Exit will have you on the edge of your seat and leave you breathless.
No Exit will have you balanced on the tip of a knife for the entire duration of the plot. Darby is in a mad rush home to see her dying mother at the beginning of the story, but her plans are quickly thrown off the rails when a severe snowstorm leaves her stranded at a remote rest stop. Her concerns about her mother soon take a back seat to something even more harrowing: a kidnapped child locked in the back of a van.
This novel occasionally pushes the limits when it comes to suspension of disbelief, as thrillers often do. The dominating law of the universe constructed in this story seems to be Murphy's law, and while it sometimes lends a certain degree of predictability to the plot, often the fun lies in seeing how Darby will react and adjust in the face of each new obstacle. This is one of those books where it's difficult not to picture yourself in the protagonist's shoes, and while Darby occasionally has mind-numbing lapses in judgments, I'm not sure I'd fare much better when thrown so unexpectedly into a crisis like this.
The overwhelming majority of the book takes place within the confines of the remote rest stop, lending an air of claustrophobia to the story and keeping tensions high. The pacing is lightning-fast, the stake are high, and the villain is so easy to hate. No Exit is an immensely fun thriller that's just dying to be made into a movie!

Amazon | Barnes & Noble | Book Depository | IndieBound
Thank you for reading! Have you read any books that take place entirely or mostly within one room? Was that a positive or a negative for the plot? Let me know in the comments!
Other places to follow me…
Tumblr | Facebook | Instagram | GoodReads