Where has the year gone?
Hello, friends! The year isn't quite over, so here's hoping I don't stumble across a new favorite book between now and Tuesday, because I'm compiling my top ten list today. 2018 was my first year of book blogging, and I've found so many wonderful books due to this hobby. For each entry on this list, I'll provide the blurb from Goodreads and tell you a little bit about why I loved each book.
So, without further ado, let's count down to my favorite book of 2018…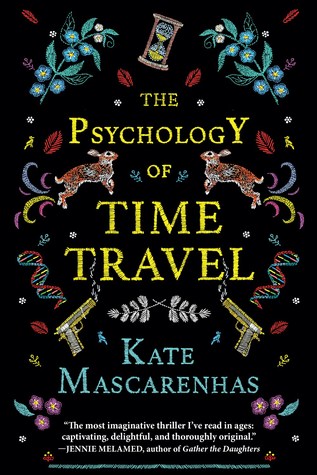 In 1967, four female scientists worked together to build the world's first time machine. But just as they are about to debut their creation, one of them suffers a breakdown, putting the whole project—and future of time travel—in jeopardy. To protect their invention, one member is exiled from the team—erasing her contributions from history.
Fifty years later, time travel is a big business. Twenty-something Ruby Rebello knows her beloved grandmother, Granny Bee, was one of the pioneers, though no one will tell her more. But when Bee receives a mysterious newspaper clipping from the future reporting the murder of an unidentified woman, Ruby becomes obsessed: could it be Bee? Who would want her dead? And most importantly of all: can her murder be stopped?
Traversing the decades and told from alternating perspectives, The Psychology of Time Travel introduces a fabulous new voice in fiction and a new must-read for fans of speculative fiction and women's fiction alike.
This one was actually an advance reader copy which I received through NetGalley, and the book won't be out until February 12, 2019. (This applies in the US at least; I believe the UK edition was released this past August.) The Psychology of Time Travel, as the title implies, takes a really interesting look at how time travel might impact not just society as a whole, but each time traveler's relationship with the world, the people around them, and their own sense of mortality. The novel also incorporates feminist themes as well as other social themes into the narrative, and then wraps it all up in a murder mystery. There's a lot going on in this book, but it always feels engaging rather than messy.

 Two brothers meet at the border of their vast cattle properties under the unrelenting sun of outback Queensland, in this stunning new standalone novel from New York Times bestseller Jane Harper
They are at the stockman's grave, a landmark so old, no one can remember who is buried there. But today, the scant shadow it casts was the last hope for their middle brother, Cameron. The Bright family's quiet existence is thrown into grief and anguish. Something had been troubling Cameron. Did he lose hope and walk to his death? Because if he didn't, the isolation of the outback leaves few suspects…
Dark, suspenseful, and deeply atmospheric, The Lost Man is the highly anticipated next book from the bestselling and award-winning Jane Harper, author of The Dry and Force of Nature. 
This was yet another advance reader copy (although it is already available in Australia) and is set to be released on February 5, 2019. This one is relatively low on this list because it took things a while to get going. For about 1/3 of the book, I wasn't enjoying it, but Jane Harper is an amazing writer so I powered through the boredom and it turned out to be an amazing read. The Lost Man explores some truly flawed characters as the protagonist struggles to reconcile his view of his brother with the man he truly was. (For fans of Harper's prior work, sadly, there is no Aaron Falk in this one.)
The story of an intense female friendship fueled by affection, envy and pride–and each woman's fear that she would be nothing without the other.
Skinny, nine-year-old orphaned Dores is working in the kitchen of a sugar plantation in 1930s Brazil when in walks a girl who changes everything. Graça, the spoiled daughter of a wealthy sugar baron, is clever, well fed, pretty, and thrillingly ill behaved. Born to wildly different worlds, Dores and Graça quickly bond over shared mischief, and then, on a deeper level, over music.
One has a voice like a songbird; the other feels melodies in her soul and composes lyrics to match. Music will become their shared passion, the source of their partnership and their rivalry, and for each, the only way out of the life to which each was born. But only one of the two is destined to be a star. Their intimate, volatile bond will determine each of their fortunes–and haunt their memories.
Traveling from Brazil's inland sugar plantations to the rowdy streets of Lapa in Rio de Janeiro, from Los Angeles during the Golden Age of Hollywood back to the irresistible drumbeat of home, The Air You Breathe unfurls a moving portrait of a lifelong friendship–its unparalleled rewards and lasting losses–and considers what we owe to the relationships that shape our lives.
This novel is a bit slow paced, but it was so emotional, atmospheric, and poetic that I never minded. Frances de Pontes Peebles writes to beautifully; the novel is written from the perspective of Dores, who is passionate about writing songs, and that love of writing really shines through stylistically throughout the novel. I was also enthralled by the relationship between the two major female characters and the way the author explores the mixture of love and resentment that comes with a relationship with a steep power imbalance.
The Rules of Blackheath
Evelyn Hardcastle will be murdered at 11:00 p.m.
There are eight days, and eight witnesses for you to inhabit.
We will only let you escape once you tell us the name of the killer.
Understood? Then let's begin…
Evelyn Hardcastle will die. Every day until Aiden Bishop can identify her killer and break the cycle. But every time the day begins again, Aiden wakes up in the body of a different guest. And some of his hosts are more helpful than others…
The most inventive debut of the year twists together a mystery of such unexpected creativity it will leave readers guessing until the very last page.
This entry comes with a caveat, because I have seen some very valid criticisms of this book, and I don't want to include it on this list without addressing that. Aiden Bishop spends the masquerade ball hopping from one attendee's body to the next as he tries to solve the murder of Evelyn Hardcastle. One of these bodies that he inhabits is, to put it lightly, fat. So terribly, disgustingly fat, in fact, it's almost as if we are meant to believe that the indignity of spending time in this body rivals almost anything else Aiden Bishop endures in this nightmare of a Groundhog Day scenario. It's over the top and feels out of place in an otherwise really enjoyable book.
That being said, the mystery of this book had me hooked from the first chapter. The 7 1/2 Deaths of Evelyn Hardcastle blends science fiction, horror, and mystery into a super engaging book, the old-timey masquerade ball is a ridiculously fun atmosphere, and the pace is lightning fast.
They killed my mother.
They took our magic.
They tried to bury us.
Now we rise.
Zélie Adebola remembers when the soil of Orïsha hummed with magic. Burners ignited flames, Tiders beckoned waves, and Zélie's Reaper mother summoned forth souls.
But everything changed the night magic disappeared. Under the orders of a ruthless king, maji were killed, leaving Zélie without a mother and her people without hope.
Now Zélie has one chance to bring back magic and strike against the monarchy. With the help of a rogue princess, Zélie must outwit and outrun the crown prince, who is hell-bent on eradicating magic for good.
Danger lurks in Orïsha, where snow leoponaires prowl and vengeful spirits wait in the waters. Yet the greatest danger may be Zélie herself as she struggles to control her powers and her growing feelings for an enemy.
Adeyimi's debut novel earned a lot of much-deserved praise. The story is chock-full of fantasy tropes, so if you're irritated by common tropes, maybe this isn't the book for you, but I loved how these tropes interacted with Adeyemi's African-inspired setting and themes surrounding oppression and police brutality. I definitely could have done without the romance, which was far to insta-lovey for my taste, but that seems to be a theme for me when it comes to YA books.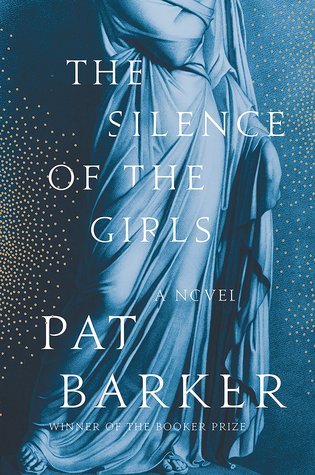 The ancient city of Troy has withstood a decade under siege of the powerful Greek army, which continues to wage bloody war over a stolen woman—Helen. In the Greek camp, another woman—Briseis—watches and waits for the war's outcome. She was queen of one of Troy's neighboring kingdoms, until Achilles, Greece's greatest warrior, sacked her city and murdered her husband and brothers. Briseis becomes Achilles's concubine, a prize of battle, and must adjust quickly in order to survive a radically different life, as one of the many conquered women who serve the Greek army.
When Agamemnon, the brutal political leader of the Greek forces, demands Briseis for himself, she finds herself caught between the two most powerful of the Greeks. Achilles refuses to fight in protest, and the Greeks begin to lose ground to their Trojan opponents. Keenly observant and coolly unflinching about the daily horrors of war, Briseis finds herself in an unprecedented position, able to observe the two men driving the Greek army in what will become their final confrontation, deciding the fate not only of Briseis's people but also of the ancient world at large.
Briseis is just one among thousands of women living behind the scenes in this war—the slaves and prostitutes, the nurses, the women who lay out the dead—all of them erased by history. With breathtaking historical detail and luminous prose, Pat Barker brings the teeming world of the Greek camp to vivid life. She offers nuanced, complex portraits of characters and stories familiar from mythology, which, seen from Briseis's perspective, are rife with newfound revelations. Barker's latest builds on her decades-long study of war and its impact on individual lives—and it is nothing short of magnificent.
Fans of Circe who haven't read this novel should absolutely give it a chance. Both books take relatively male-dominant stories from Greek mythology and retell them with a focus on the women. The Silence of the Girls explores the complex ways women cope after a trauma when they are being treated as property. Briseis has lost her family to the Greek soldiers, and now must endure in quiet suffering as a prize for Achilles. The writing style is lovely and emotionally raw.
Some of the lower reviews on this book seem to focus on the fact that the male characters loom quite large in the story, and readers wanted it to feel more female-centric. While I understand this criticism, I don't necessarily agree. Achilles and Patroclus are undeniably huge driving forces in the novel, but to me that feels more like a consequence of the original source material rather than a specific narrative choice meant to diminish the women. These characters controlled everything about Briseis' life as a prisoner and slave; it makes sense that they would dominate a lot of her thoughts.

Camden, NJ, 1948.
When 11 year-old Sally Horner steals a notebook from the local Woolworth's, she has no way of knowing that 52 year-old Frank LaSalle, fresh out of prison, is watching her, preparing to make his move. Accosting her outside the store, Frank convinces Sally that he's an FBI agent who can have her arrested in a minute—unless she does as he says.
This chilling novel traces the next two harrowing years as Frank mentally and physically assaults Sally while the two of them travel westward from Camden to San Jose, forever altering not only her life, but the lives of her family, friends, and those she meets along the way.
I was so hesitant to pick up this novel due to the subject matter (a real crime committed against a child), but I was beyond pleasantly surprised. Rust & Stardust never feels gratuitously graphic and is imbued with a sensitivity and respect for the victim. Those who are familiar with Sally's story may be wary of picking this up, as I was, but rest assured you will not be forced to endure detailed descriptions of sexual abuse. It is implied and it is obvious that it is happening, but Greenwood tends to skip from the moments prior to the aftermath, which feels like an appropriate choice here.
This is definitely more of a novelization than true crime, but Greenwood draws on the actual historical facts along with a healthy dose of speculation in order to fully flesh out Sally Horner as a character. The novel really illustrates how LaSalle took advantage of Sally's trusting nature as a young girl and made her too terrified to reach out for help. Sally navigates day to day life, even going to school under a false name, as countless opportunities to escape pass her by due to the sense of hopelessness LaSalle has imposed upon her. Sally Horner's story is unspeakably tragic, and I really feel that Rust & Stardust treats her tragedy with respect.
No one's ever told Eleanor that life should be better than fine.
Meet Eleanor Oliphant: She struggles with appropriate social skills and tends to say exactly what she's thinking. Nothing is missing in her carefully timetabled life of avoiding social interactions, where weekends are punctuated by frozen pizza, vodka, and phone chats with Mummy.
But everything changes when Eleanor meets Raymond, the bumbling and deeply unhygienic IT guy from her office. When she and Raymond together save Sammy, an elderly gentleman who has fallen on the sidewalk, the three become the kinds of friends who rescue one another from the lives of isolation they have each been living. And it is Raymond's big heart that will ultimately help Eleanor find the way to repair her own profoundly damaged one.
Soon to be a major motion picture produced by Reese Witherspoon, Eleanor Oliphant Is Completely Fine is the smart, warm, and uplifting story of an out-of-the-ordinary heroine whose deadpan weirdness and unconscious wit make for an irresistible journey as she realizes. . .
The only way to survive is to open your heart.
This book was such a lovely take on mental illness and loneliness in modern society. Eleanor is extremely socially isolated and lacks the skills to form new connections with those around her. As many reviewers have pointed out, she displays some signs of being on the Autism spectrum, although this is never explicitly addressed in the book. What is quite clear is that she's struggling with depression and alcohol dependency.
Part of what I loved about this book was that, despite the themes surrounding the need for love and friendship in order to heal, Honeyman never implied that friendship alone is adequate or some kind of magical replacement for actual mental health care. Eleanor would have been doomed without her newfound friendships, but an important tipping point was the fact that one of those friends pushed her to seek the professional help she needed.
In an enthralling new historical novel from national bestselling author Kate Quinn, two women—a female spy recruited to the real-life Alice Network in France during World War I and an unconventional American socialite searching for her cousin in 1947—are brought together in a mesmerizing story of courage and redemption.
1947. In the chaotic aftermath of World War II, American college girl Charlie St. Clair is pregnant, unmarried, and on the verge of being thrown out of her very proper family. She's also nursing a desperate hope that her beloved cousin Rose, who disappeared in Nazi-occupied France during the war, might still be alive. So when Charlie's parents banish her to Europe to have her "little problem" taken care of, Charlie breaks free and heads to London, determined to find out what happened to the cousin she loves like a sister.
1915. A year into the Great War, Eve Gardiner burns to join the fight against the Germans and unexpectedly gets her chance when she's recruited to work as a spy. Sent into enemy-occupied France, she's trained by the mesmerizing Lili, the "Queen of Spies", who manages a vast network of secret agents right under the enemy's nose.
Thirty years later, haunted by the betrayal that ultimately tore apart the Alice Network, Eve spends her days drunk and secluded in her crumbling London house. Until a young American barges in uttering a name Eve hasn't heard in decades, and launches them both on a mission to find the truth…no matter where it leads.
Female spies aiding the Allies during WWI? Honestly, enough said! But The Alice Network is also so much more than that. The two separate timelines allow us to explore young Eve Gardiner as a spy, but also see her as an older woman through Charlie's story during WWII. Eve was my favorite aspect of this book, and I loved that we got to see her contribution to the war as well as the disillusioned and damaged aftermath. Eve does not escape the war unscathed, physically or emotionally, and her struggles can make her an unpleasant person to be around. To say that Charlie struggles to convince Eve to help her is an understatement. However, the two ladies form an unlikely bond and Charlie slowly learns about Eve's tortured past as both women's stories are woven together throughout the novel.
Aging and reclusive Hollywood movie icon Evelyn Hugo is finally ready to tell the truth about her glamorous and scandalous life. But when she chooses unknown magazine reporter Monique Grant for the job, no one is more astounded than Monique herself. Why her? Why now?
Monique is not exactly on top of the world. Her husband has left her, and her professional life is going nowhere. Regardless of why Evelyn has selected her to write her biography, Monique is determined to use this opportunity to jumpstart her career.
Summoned to Evelyn's luxurious apartment, Monique listens in fascination as the actress tells her story. From making her way to Los Angeles in the 1950s to her decision to leave show business in the '80s, and, of course, the seven husbands along the way, Evelyn unspools a tale of ruthless ambition, unexpected friendship, and a great forbidden love. Monique begins to feel a very real connection to the legendary star, but as Evelyn's story near its conclusion, it becomes clear that her life intersects with Monique's own in tragic and irreversible ways.
Written with Reid's signature talent for creating "complex, likable characters" (Real Simple), this is a mesmerizing journey through the splendor of old Hollywood into the harsh realities of the present day as two women struggle with what it means -and what it costs- to face the truth.
This entry probably comes as no surprise to anyone who's been following my blog for a while. This book was honestly the highlight of my year and I'm so glad my book club gave me an excuse to read it a second time. Evelyn Hugo is such a beautifully nuanced, flawed, but intensely likable character. The Seven Husbands of Evelyn Hugo explores sexuality, public perception vs. private reality, platonic and romantic love, race, and more. Fundamentally, it feels like a book about identity.
You can read my full review here, but the short version is this: if you only take one book recommendation from me this year, let it be this one!
Thank you for reading! Do you have any thoughts on the books on this list? What would you include in your top ten? Let's discuss!
Other places to follow me…
Tumblr | Facebook | Instagram | GoodReads