When I first started blogging, I didn't give much thought to writing negative reviews. I was excited to discuss books that I love and share them with other people. I wanted to gush about Neil Gaiman books, talk about the latest film adaptations of books I love, and get hyped up about new releases.
And sure, there's been plenty of that, but lately, I've been thinking about the necessary evil of writing… less than glowing reviews. Sometimes these are easy to write; I gleefully tore into Stephenie Meyer's The Chemist on this blog a while back, and I have no regrets. Stephenie Meyer is enjoying heaps of success and I can be relatively sure her eyes will never cross my little blog. Stephenie Meyer absolutely does not care what I think, and that's fine by me.
But when the writer in question is an indie author, the situation becomes fraught. If the book only has 5 or 10 reviews up on GoodReads and you're the first naysayer in the crowd, it becomes difficult not to picture the author's face when they inevitably read a review that can essentially be summed up with this gif: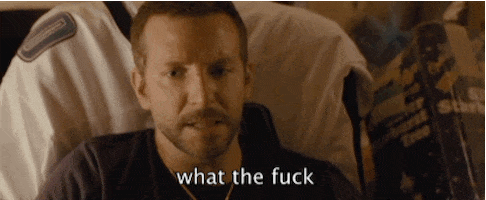 I don't want to take the wind out of anyone's sails, least of all someone who is just getting started in a writing career. I try to ask myself with each review, "Who would enjoy this book?" But what do I say when the only answer that comes to mind is, "No one?"
Ultimately, I think it comes down to this: there are two inherent agreements in running a book review blog. In accepting review copies of books, we agree to read and review them. Full stop. Bloggers may be used as a marketing tool, but we are not at the beck and call of the author's marketing team.
The second unspoken agreement is equally important, and that is with our readers. I will never recommend that you spend your time and money on a book that I don't believe deserves it. In the interest of keeping my reviews balanced, I generally try to find something nice to say about every book; surely every book has done something right. But I will never waste my readers' time in the interest of sparing an author's feelings.
I've sometimes seen drama over on GoodReads, when negative reviews are met with people lashing out about "haters." No book will appeal to every reader. Dismissing every naysayer as a "hater" is ultimately missing the point. Are there pointlessly negative reviews which don't offer any analysis, but simply choose 15 or 20 different ways to say "I hated this?" Sure. But if a reviewer is articulating why book didn't work for them, they are providing valuable information for other readers, regardless of their personal taste. Maybe they gave it two stars because the whole story revolved a trope they can't stand, like love triangles, but love triangles are totally up your alley. Then grab that book and have a blast! And appreciate the fact that another reviewer took the time to let you know what was in store.
Happy reading, everyone! Here's hoping there are many five star books in your future!
Thanks for reading, friends! I'd love to hear from you in the comments! Do you feel uncomfortable when posting negative reviews? How do you deal with these?
Other places to follow me…
Tumblr | Facebook | Instagram | GoodReads